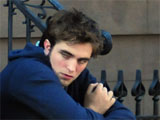 Robert Pattinson has admitted that he prefers to keep a low profile than to parade himself in the limelight.
The Twilight star has insisted that he enjoys staying indoors and keeping a quiet life.
Pattinson told Hello! magazine: "I've always been a bit of a recluse anyway so it doesn't make too much of a difference now that I actually am one."
The 23-year-old actor has also revealed that he feels more comfortable on a film set than doing press for movies.
He added: "I've always felt more relaxed when I'm actually on set than I do in the world. I feel more relaxed there than doing interviews and talking to people I don't know."
Pattinson is currently filming Eclipse, the third instalment in the Twilight franchise.
Source