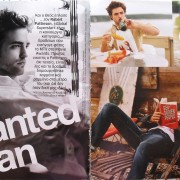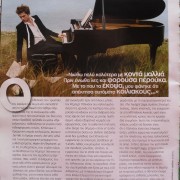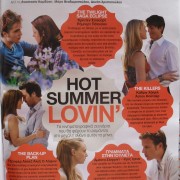 Translation
And God made Robert Pattinson…There was a new category at the MTV Movie Awards this year, "Global Superstar", and the first winner was indeed Robert, as if this award was made just for him(and no, it wasn't our idea).
The actor, who owes a hippie director from Venice Beach (Catherine Hardwicke, whom he always thanks whenever he wins an award) his career, made time to shoot, in between his "vampire" duties, very interesting movies. We hope that the romantic drama "Remember Me", the historical drama "Bel Ami", and also the movie adaptation of "Water for elephants", that he's currently shooting alongside Reese Witherspoon, will help him leave the "vampire " label behind . Glamour has obviously a crush on the man who became the" talk of the planet" within a few months, not because of his wild hair ,that a lot has been written about, but because of his attitude and charm. He chooses to stay away from crowds and Hollywood parties. GQ magazine declared Robert Pattinson "The best dressed man of the year"( this was the least the magazine could do, since the issue with him on the cover registered a record in sales). "He's very elegant and creative, he has the authentic style of a today's young man" , Domenico Dolce and Stefano Gabbana said about him. This didn't prevent Pattinson from going to awards wearing T-shirts, misbuttoned shirts and jackets that needed pressing. However, his appearances at the Oscars in 2009 and later at Cannes were enough for him to be worthy of the title. Time Magazine included him among "The Most Influential People in the World"( Chris Weitz, the New Moon director, was the one who wrote a paragraph about him). And while teenage girls and cougars are itching to hear a confirmation of his rumoured relationship with twilight co-star Kristen Stewart, he, always the gentleman , thanked her at the MTV Movie Awards, because "she's the link of the whole series". The thing that the world seems to forget is that he is a normal 24 year old guy, even though he's much more mature for his age, and an amazing musician who prefers music to sports.
He finds Eclipse, the third instalment of the twilight saga,(in Greece opens on June 30th) , this time directed by David Slade," very different, less fantasy, with lots of fights and closer to a horror movie". And while he remains the vampire with bronze hair on screen, Pattinson recently cut his locks. " I feel much better. Before it was like I had a wig. It felt as if I gained a six pack as soon as I had a haircut."
Thanks so much to Ely for the translation and sending it to us.
Scans:
elenastew
at
Pattinsonlife